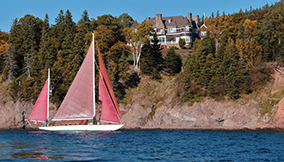 New England & Canada Cruise Sale!
Lighthouses Aren't the Only Reason People Found Their Way Here
New England and eastern Canada have an unmistakable charm, history and natural beauty all their own, and there's no better time to visit than the fall. The foliage is brilliant in every imaginable color, lighthouses dot the coastline, and there's always an authentic lobster bake going on somewhere. Take a Royal Caribbean cruise from Maryland to this wonderful area onboard Grandeur of the Seas this fall!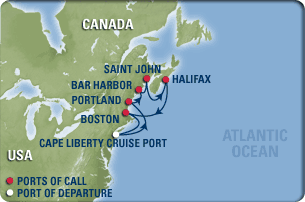 Grandeur of the Seas
Itinerary:
Day 1 - Baltimore, Maryland

Day 2 - Cruising

Day 3 - Boston, Massachusetts (10:00AM - 11:00PM)

Day 4 - Portland, Maine (8:00AM - 5:00PM)

Day 5 - Bar Harbor, Maine (8:00AM - 6:00PM)

Day 6 - Saint John, New Brunswick (7:00AM - 3:30PM)

Day 7 - Halifax, Nova Scotia (10:30am to 7:00pm)

Day 8 - Cruising

Day 9 - Cruising

Day 10 - Baltimore, Maryland
2017 Dates:
June 1, 29
July 27
September 7
October 5, 19
From $719 US


Grandeur of the Seas
There's never been a cruise ship like this. Enjoy one-of-a-kind features like an ice-skating rink, the Royal Promenade and a rock-climbing wall. There was only one way to accommodate all of these innovative ideas. We built a bigger cruise ship. The 138,000-ton, 3,114-guest Explorer of the Seas offers more space for every guest - plus enhanced staterooms, expanded dining options and exceptional recreational facilities.
Ship Highlights: Ice-skating rink, Rock-climbing wall, In-line skating, Royal Promenade (open 24 hours), Johnny Rockets '50s-style restaurant, Portofino Italian Restaurant, Themed bars and lounges, Casino Royale, Golf simulators, 9-hole miniature golf course, Adventure Ocean youth facilities, Day Spa and Fitness Center, and Full-size basketball court.

PRICING INCLUDES PORT CHARGES. Taxes are additional. If transfers and airfare is needed that is also additional. All pricing is in US Dollars, per person based on two sharing. All pricing is based on availability. Not all the sailing dates above will have the same availability.